The educational charities that do PR for the rightwing ultra-rich
Billionaires control the political conversation by staying hidden and paying others to promote their brutal agendas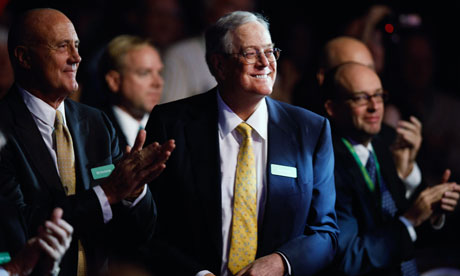 This covers only part of the funding. In total, between 2002 and 2010 the two identity-laundering groups paid $311m to 480 organisations, most of which take positions of interest to the ultra-rich and the corporations they run: less tax, less regulation, a smaller public sector. Around a quarter of the money received by the rightwing opinion swarm comes from the two foundations. If this funding were not effective, it wouldn't exist: the ultra-rich didn't get that way by throwing their money around randomly. The organisations they support are those that advance their interests.
Would the BBC allow someone from Bell Pottinger to discuss an issue of concern to its sponsors without revealing the sponsors' identity? No. So what's the difference? What distinguishes an acknowledged public relations company taking money channelled by a corporation or a billionaire from a so-called thinktank, funded by the same source to promote the same agenda?
This is the new political frontier. Corporations and their owners have learned not to show their hands. They tend to avoid the media, aware that they will damage their brands by being seen to promote the brutal agenda that furthers their interests. So they have learned from the tobacco companies: stay hidden and pay others to do it for you.
They need a network of independent-looking organisations that can produce plausible arguments in defence of their positions. Once the arguments have been developed, projecting them is easy. Most of the media is owned by billionaires, who are happy to promote the work of people funded by the same class. One of the few outlets they don't own – the BBC – has been disgracefully incurious about the identity of those to whom it gives a platform.
By these means the ultra-rich come to dominate the political conversation, without declaring themselves. Those they employ are clever and well-trained, with money their opponents can only dream of. They are skilled at rechannelling public anger that might otherwise be directed at their funders: the people who tanked the economy, who use the living planet as their dustbin, who won't pay taxes and demand that the poor must pay for the mistakes of the rich. Anger, thanks to the work of these hired hands, is instead aimed at the victims or opponents of the billionaires: people on benefits, trade unions, Greenpeace, the American Civil Liberties Union.
The answer, as ever, is transparency. As the so-called thinktanks come to play an ever more important role in politics, we need to know who they are working for. Any group – whether the IEA or Friends of the Earth – that attempts to influence public life should declare all donations greater than £1,000. We've had a glimpse of who's paying. Now we need to see the rest of the story.